DroneAdair partners with Stripe for secure payments and financial services. Connecting Stripe to your profile is easy and only takes a few minutes.
Step 1: Connecting to Stripe
Click 'Connect Stripe' and enter the email address and phone number that you want to use to create your Stripe account.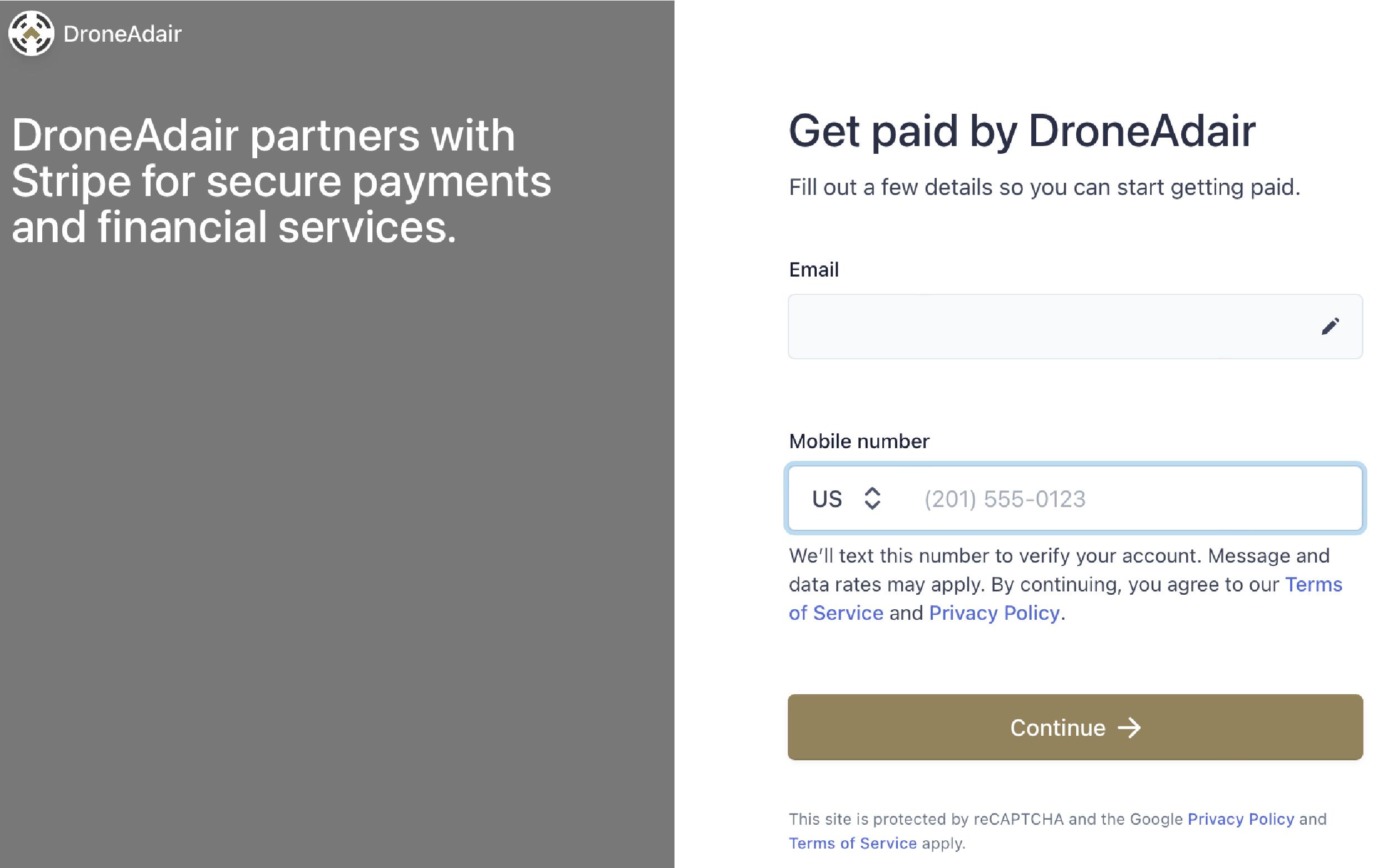 Once you have entered your email and phone number, a verification number will be sent to your phone. Enter the code.

If you did not receive a code or have an issue with a code, click 'Resend Code'
Step 2: Verify Your Personal Details
Stripe collects this information to verify your identity and keep your account safe.

Click 'Continue'
Step 3: Professional Details
This step will ask you you enter your industry and website information.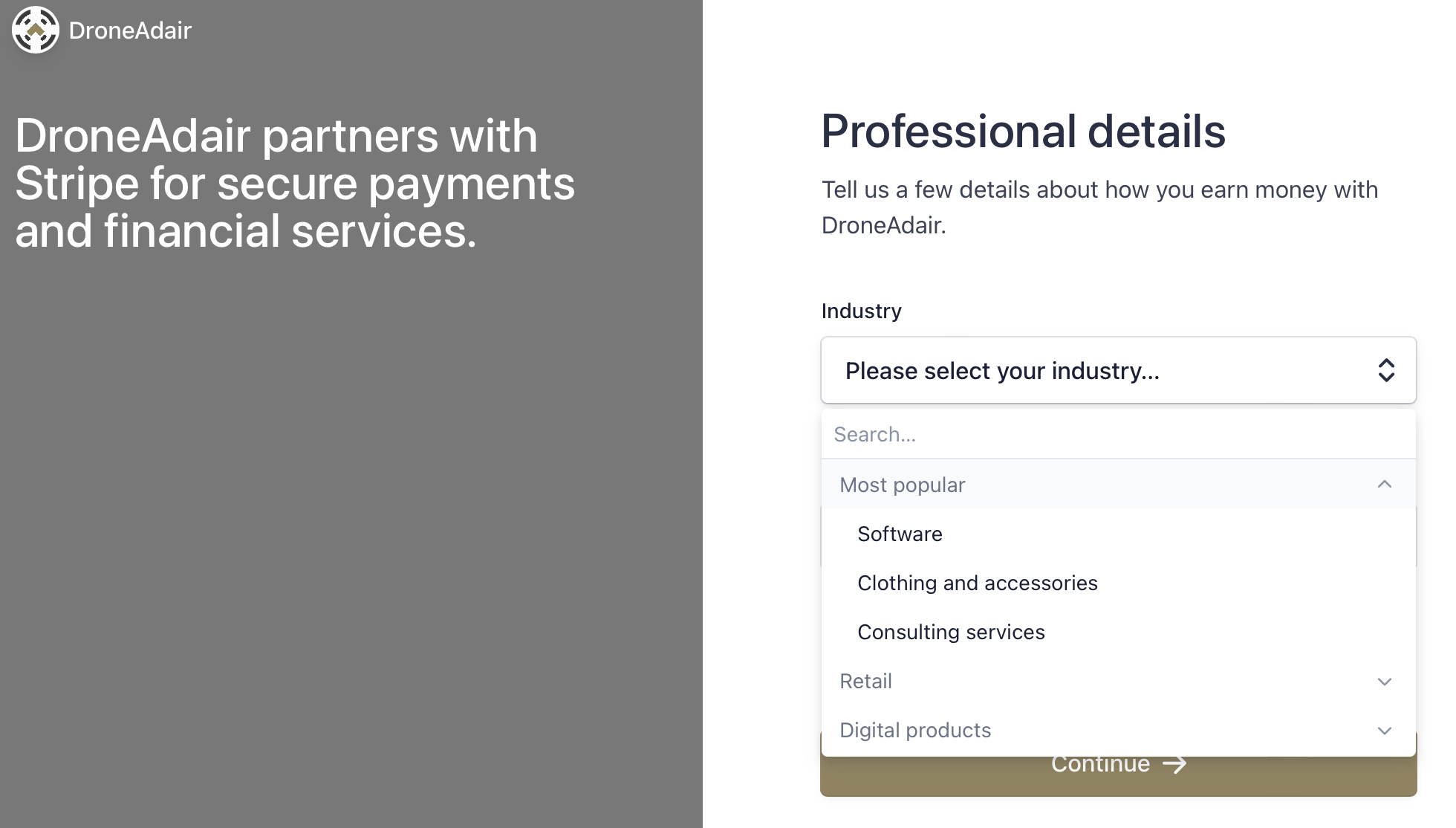 To select an industry, click the drop-down icon for a large selection of industries.

Next, enter your website URL; if you do not have a website, you can use your DroneAdair profile as your website.

Or, you can add a product description instead. To do so, click 'add a product description instead.'

Once you have entered all the information, continue to the next step.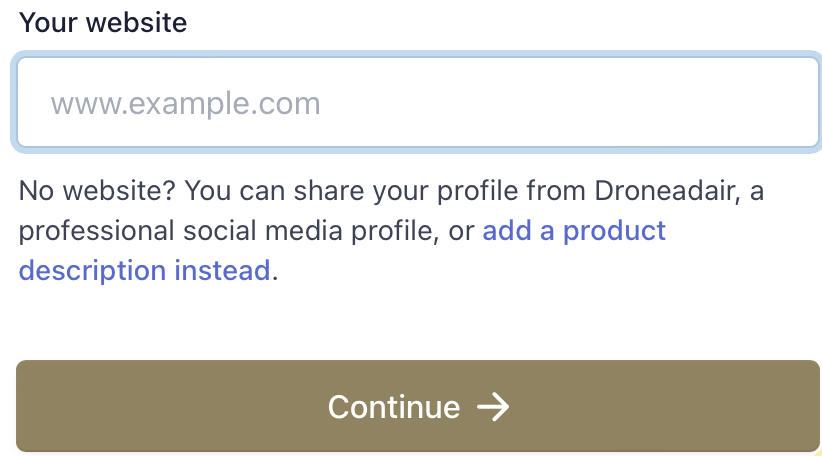 Step 5: Select an account for payouts
Any earnings you receive through DroneAdair can be sent directly to a Bank account or debit card via Stripe.
Select either 'Bank Account' or 'Debit Card'

Enter your routing number (routing numbers are nine-digit numbers that identify your bank or credit union in a financial transaction).

Enter your checking account number. (Must be a checking account number, other account types are not accepted).

Confirm your bank account number.
Note: Routing numbers can be found in the following ways:
On a personal check (located bottom left).

Personal bank statement.

Your bank's website or app.

Through your bank's customer service.
The only thing left to do is review your details, and confirm that your Professional Details, Personal Details, and Payout Accounts information are correct. If there is any missing information, it will highlight what's missing.
Click 'Submit' and you're now connected to Stripe!